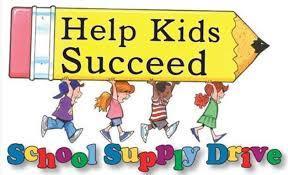 Backpack Event Going On To Collect School Supplies
Olympia CUSD 16
Monday, June 01, 2020
Spartan Council is sponsoring a backpack and school supply drive for Olympia North and Olympia West. Supplies or backpacks may be dropped off at the following locations: Olympia Administration Office, Stanford Library, Danvers Library, Minier banks, and the Hopedale Dollar General.
Supply lists can be found on the District website by clicking HERE.
To electronically purchase items to be shipped directly to Olympia, visit our Amazon Wish List at: http://tinyurl.com/OlyAmazonWi...
Backpacks filled with supplies will be distributed to students at Olympia North on August 7th and to Olympia West students on August 9th.
* The Atlanta Christian Church is having a supply drive for Olympia South students. If you would like to donate or assist with this drive, please contact Terry Brooks, brooks32001@yahoo.com or Linda McVey, mcveyL@district87.org.
Thank you so much for helping the students of Olympia! We greatly appreciate your donations!