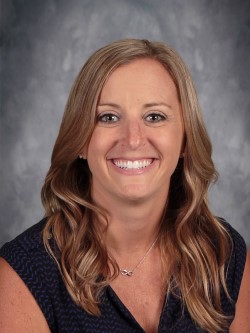 Mrs. Peifer
Olympia North Principal
Welcome to Olympia North Elementary School. We are located in Danvers, Illinois and one of three elementary schools in the Olympia District. Olympia North serves around 300 students from Covell, Stanford, and Danvers in PreK through Fifth Grade.
Our staff is committed to providing quality instruction, a caring community, and a collaborative learning environment for our students. This year our School Improvement Plan is focused on improving students' Operations and Algebraic Thinking math skills. We want our student MAP score average in "Operations and Algebraic Thinking" to grow from 59% of students meeting or exceeding expectations to 70% of students meeting or exceeding expectations by Spring 2023. We will be focusing on students' abilities to solve word problems. Our staff will be working closely with our math coach to improve practices in the classroom to support student learning.
Olympia North staff are committed to the whole child, this includes social emotional and mental health. Our goal is to help cultivate skills and environments that advance students' learning and development in the areas of self-awareness, self management, social awareness, relationship skills, and responsible decision-making. We strive to create clear, explicit communication and routines that provide predictability to help ensure our classrooms are a place where our students feel safe.
Our team values collaboration and open communication with our families and community. We know that this home-school partnership is vital for student success. Please visit our website frequently and follow us on Facebook, Instagram, or Twitter to stay up to date on upcoming events and important information. If you have any questions please call our office at 309-963-4514 or email me at kristina.peifer@olympia.org.
OLYMPIA NORTH ELEMENTARY REGULAR SCHEDULE:
| | |
| --- | --- |
| Building Open For Students | 7:35 AM |
| Classes Begin/Tardy Bell | 7:45 AM |
| Dismissal | 2:25 PM |
Lunch/Activity Period Schedule
| | | | | |
| --- | --- | --- | --- | --- |
| Grade | Enter Lunch | Exit Lunch | Recess Times | Back to Class |
| K | 10:45 | 11:10 | 11:10 | 11:25 |
| 1 | 11:25 | 11:50 | 11:50 | 12:05 |
| 2 | 11:00 | 11:25 | 10:45 | 11:25 |
| 3 | 11:40 | 12:05 | 11:25 | 12:05 |
| 4 | 12:05 | 12:30 | 12:30 | 12:45 |
| 5 | 12:20 | 12:45 | 12:05 | 12:45 |