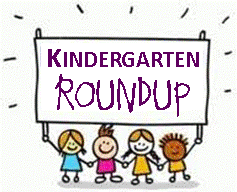 Kindergarten Round-Up/Open House
Lisa Castleman
Friday, March 22, 2019
Kindergarten Round-Up
Olympia West Elementary Kindergarten Roundup for the 2019-2020 school year will be held on Thursday, April 11th, 2019 from 5:00 to 7:00 pm.
Please bring along a copy of your child's certified birth certificate and most recent immunization record and physical.
Parents will have an opportunity to do pre-registration paperwork at this event.
This event is open to children who will be attending kindergarten during the 2019-2020 school year. To enter kindergarten, your child should be 5 on or before September 1, 2019.

Parent(s) and child are encouraged to attend the Round-up together.

During the event, you will have the opportunity to learn more about the kindergarten program at Olympia West. Children will participate in a variety of stations.

Registration will be from 5:00pm-5:15pm, we will start our program at 5:15pm
Please RSVP by April 9th to Audra Lessen, Administrative Assistant at Olympia West. Mrs. Lessen can be reached via phone at (309)392-2671 or email at audra.lessen@olympia.org