Sixth Graders Learn of Distinguished Military Service
Heather Schwarting
Friday, October 26, 2018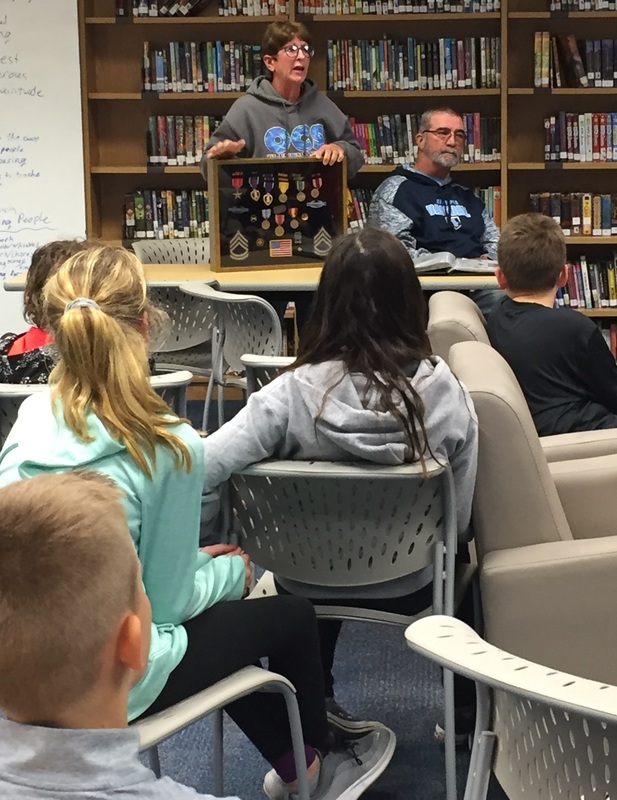 The students in Miss Schwarting's Power Hour, The War at Home: Life During World War II, welcomed two special guests on Monday, October 15th. Lin and Sharon Lacefield, grandparents of sixth grade student Owen Alford, visited OMS and brought along the medals and awards earned by Owen's great grandfather, Olous Lacefield, during his time as an Army Tech Sergeant serving in the European Theater of World War II. The students had researched Sgt. Lacefield's rank, service location, and criteria for earning the awards beforehand. The medals were displayed in a shadowbox, and the Lacefields also had a scrapbook detailing his time in the military (1944 - 1945).
The medals earned by Sgt. Lacefield are:
Two Purple Hearts

Bronze Star for Valor

American Defense Service Medal

American Campaign Medal

European - African - Middle Eastern Campaign Medal

World War II Victory Medal
We appreciate Mr. and Mrs. Lacefield for taking time to give our students the opportunity to learn more about their distinguished family member!