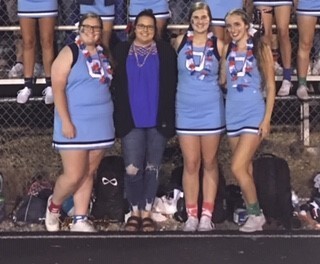 OHS Cheer Team Acquires New Cheer Coach
By: Kaylin Simpson, OHS Torch Reporter
Wednesday, September 18, 2019
With the cheerleading season kicking off, Olympia High School hired a new cheer coach, Olympia aide Haylie Noltensmeier, who is eager to help improve both the girls and the team.
Coach Haylie is from the local area, Hartsburg, where she attended Hartsburg-Emden High School. While in school, Coach Haylie was a part of the cheer team all four years.
Coach Noltensmeier stated she has a lot of experience when it comes to coaching. Prior to coaching the Olympia Cheer Team, Coach Haylie was a volleyball coach for 10 years. She was also a cheerleader herself for a total of 12 years.
"I think she is focusing on everyone opposed to paying attention to specific people. I also feel like she is trying to better the team as a whole. She's not afraid to call you out to better all of us," said Madianna Martinez, Junior Captain.
Coach Haylie mentioned the season was going well. "We've hit some bumps but we've overcome those and it looks good," said Coach Haylie.
Both Madianna and Coach Haylie are excited for the rest of the season. Madianna is looking forward to improving the program. Alongside rebuilding the team, she hopes more respect is gained for the OHS Cheer Team throughout the season.
Madianna also commented on how she likes Coach Haylie's approach to improving the image of the cheer team. She claims Coach Haylie is big on respect and is working on getting a better image for the team.
"I am looking forward to seeing how well the girls improve from the beginning to the end because I have already seen lots of improvement and I can't wait to see how much more there is," stated Coach Haylie.