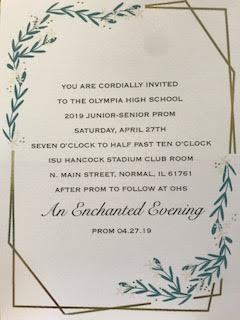 "An Enchanted Evening"
Angie Davis
Monday, March 18, 2019
OHS Prom "An Enchanted Evening" will be held at ISU Stadium Club Room on Saturday April 27th from 7:30-10:30. Prom is an event for Junior and Senior Students and their guest. The Junior class is working hard to plan this wonderful event!
The AfterProm Committee has also been working to plan a fun safe evening for the students after the event! AfterProm will be held at OHS following the dance. We are looking for more parents to join in! We are seeking donations and both underclass and upperclass parents to join us and see what the event is like in order to plan ahead for future years! Please consider chaperoning the event. We truly need parent support to make the evening a success. We need moms and dads at the check in table, in the commons, serving food and just enjoying the evening. You are welcome to sign up for multiple time slots or stay the entire night! If you have any questions please contact Angie Davis at angie.davis@olympia.org
Please click on the link below for the signup!
https://www.signupgenius.com/go/30e054daca62ba31-afterprom2