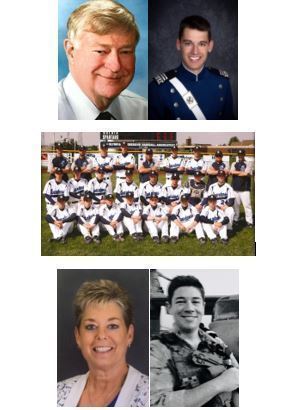 Olympia Hall of Fame 2019 Inductees
Olympia High School
Thursday, January 17, 2019
Olympia High School Hall of Fame
Olympia School District proudly announces the
Olympia High School Hall of Fame Class of 2019 inductees!
As in tradition, we will be recognizing this year's inductees at a home boys' basketball game. This year's game is February 16, 2019 vs. Clinton High School. The introductions will take place at halftime of the Varsity Boys game (approximately at 7:30 p.m. that evening).
Douglas Blair (Friend- Outstanding Contribution)
The contributions of Mr. Blair started in 1965, when he took a position in the Atlanta School District. In 1966, Douglas was instrumental in the formation of the Olympia School District. For the next five years, Mr. Blair spent his time rallying supporters, convincing doubters, fighting naysayers, and in and out of the Supreme Court so that Olympia could come to realization. Douglas worked closely with the State Board of Education and Illinois State University developing curriculum, courses, and programming that would be innovative, creative, and of higher quality than the wealthiest of city schools. As the first Superintendent of Olympia School District, he was the driving force behind the development of Olympia High School, which opened its doors in August 1972. The consolidation of eight small communities gave students an opportunity to attend a larger high school. Olympia High School then had the resources to expose students to a college prep curriculum for the first time in history. This also made it possible to offer students a greater variety of sports, clubs, and activities. For the first time Olympia School District had a high school football team, wrestling team, swim team, and multiple levels of baseball and basketball. The consolidation also benefited extra-curricular activities at the elementary and middle school levels. Students now had the opportunity to participate in competitive basketball, baseball, and track at the middle school level. While elementary students could compete in music contests, science fairs, literary festivals, and other special programs. Douglas dedicated his life to education with over 55 years of service and he made an everlasting impact on students in the Olympia School District.
2nd Lieutenant Tyler Ginger (Class of 2013 –Distinguished Individual)
Tyler Ginger is a 2013 graduate of Olympia High School. While attending Olympia, Tyler participated in a variety of activities. Some of Tyler's most notable accomplishments occurred at the IHSA State Track meet: 2011- 2nd place finish in 1A Pole Vault; 2012- 2nd place finish in 2A Pole Vault, qualifier in 110m High Hurdles and 4x200m Relay; 2013- State Champion in 2A Pole Vault and 3rd place finish in 110m High Hurdles. He also earned Corn Belt All-Conference/ All-Academic Honors as well as seven Corn Belt Conference Titles in four different Track & Field events. Tyler is a school record holder in the Pole Vault and 110m High Hurdles. After Tyler graduated at the top of his class, he continued his success in Pole Vault at the United States Air Force Academy. In 2014, he earned 6th place and, in 2015, he placed 3rd in Pole Vault at the Mountain West Indoor Conference Championship. Tyler graduated from the United States Air Force Academy in 2017 and he is currently a Financial Management Officer in the United States Air Force.
Karen (Miller) Graber (Class of 1982 – Distinguished Individual)
A 1982 graduate of Olympia High School, Karen (Miller) Graber was involved in numerous activities. She was a member of Speech Team (Mark Swartz Speech Award; State Finalist), Reader's Theatre (All District Cast & All Sectional Cast 1981 & 1982; State 1981), Madrigals, Swing Choir, Student Bank Board, Showcase, Musicals (1982 Lead- Hello Dolly), Student Council, Pep Club (President 1982), Speech & Drama Club (President 1982), Spanish Club, Chorus (President 1982), Students Helping Exceptional Students (President 1981 & 1982), and AFS Club. After high school, Karen attended Illinois State University and received her Bachelors of Art degree in 1986; she earned her Masters Degree in 1993. She has dedicated her life to the Olympia School District and she has been highly involved in various organizations. She has been a Featured Speaker at Illinois ASCD Pre-K/Kindergarten Conference (11 years), Ten Year National Presenter for B.E.R., Head Teacher at Olympia West Elementary, SILT Member, K-12 Council, Steering Committee (8 years), Olympia West PTO (officer), Volleyball Coach (McLean/Waynesville-7 years), Speech Team Coach (3 years), and Madrigals Officer. Karen has also been awarded with the IASCD Diamond Jubilee Outstanding Educational Leader Award, Outstanding Service to Children Award, and she was Nominated for Disney Teacher of the Year. During Karen's time as a student at Olympia High School and as a teacher at Olympia West Elementary, she made an everlasting impression on the Olympia School District and she impacted many Olympia graduates along the way.
Major Nathaniel Eaton (Class of 2002 – Distinguished Graduate)
A 2002 graduate of Olympia High School, Nathaniel Eaton was involved in several activities. He was a member of the Boys' Swim Team, Baseball Team (2002 State Championship), Student Council (4-year member, President-Senior Year), National Honor Society, FFA, Madrigals, and Executive Board (President-senior year). Nate went on to attend the United States Air Force Academy and earned a Bachelor's degree in Social Sciences, graduating in 2006 as 2nd Lieutenant. He attended pilot training at Vance AFB, OK and Fort Rucker, AL. Following Undergraduate Pilot Training, Major Eaton attended MV-22A training at MCAS New River, NC followed by CV-22B (Osprey) training at Kirtland AFB, NM. Upon completion of CV-22B training, he was assigned to fly the CV-22B with the 8th SOS at Hurlburt Field, FL. Major Eaton is a senior pilot with over 1400 flight hours and he has been deployed in support of numerous operations, including Enduring Freedom and Inherent Resolve. Nate is currently serving as a CV-22B Flight Lead, Evaluator Pilot and 1 SOW Liaison Officer to Naval Special Warfare Development Group Dam Neck, VA. He supports the 1st Special Operations Wing mission of supporting USSOCOM. Major Eaton has been awarded the Air Medal with 2 Oak Leaf Clusters, Aerial Achievement Medal with Oak Leaf Cluster, Air Force Commendation Medal with 2 Oak Leaf Clusters, and Air Force Achievement Medal.
2009 Baseball Team
To repeat as champions in any sport is a feat that requires immense talent, ability, commitment and sometimes a little luck. The 2009 Varsity Baseball Team had just the right combination to duplicate their 2008 IHSA State Baseball Championship. The Spartans had some hard fought battles during the regular season and on the road to the State Finals. Their journey to State began with a 4-1 win over Maroa-Forsyth in the Regional Championship. The Spartans easily defeated Paris 10-0 for Sectional Semi-Finals and Teutopolis 13-2 in the Sectional Championship. With a 4-3 score, Olympia overpowered Pleasant Plains in the Super Sectionals, which advanced them to the State tournament. With an 11-0 win over Watseka in the State Semi-Final, the Spartans headed to the State Championship game for the second year in a row. These young men finished their season with a record of 30-6 overall, beating Edwardsville Metro East Lutheran in the championship game 8-1. Their determination and perseverance took over when it came time to advance, and eventually they achieved back-to-back IHSA State Baseball Championships.